Skills Development Consulting Services
Creatividad is a Consultancy that started in 2013 as a Skills Development Consulting Service company. Over the years we added services based on our client's needs. The following are but a couple of services we offer within the Skills Development Sector. Should you need services not listed below, please connect with us.
Everybody is talking about the New Normal. Something about this statement does not help. Not only do we not know how to wrap our heads around what to expect of the near future, we also do not 'like' the word "NORMAL" in this context.
We therefore need to ask the question:
What is the #NewNeed
rather than trying to figure out a 'new normal'…
Join Creatividad on this journey to discover the #NewNeed within the Skills Development Sector.
We all learn the answer to the #NewNeed question as we wake up every morning.
Our consultancy experience of over 10 years and Skills Development expertise of over 20 years combined promise to bring a fresh approach to seek solutions for our #NewNeeds.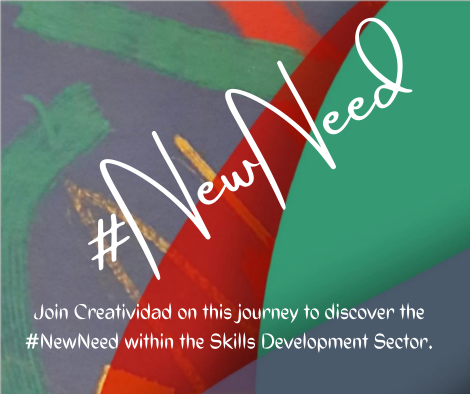 Skills Development Facilitation
If you are a Levy Paying organisation or a Levy Exempt organisation, you have to appoint a Skills Development Facilitator (SDF). In order to benefit from Skills Levy Grants, you need to complete a Work Skills Plan (WSP) before 30 April annually. To submit a WSP, you need to complete an Annual Training Report for the training of the past 12 months, as well as an Annual Training Plan for the next 12 months.
Our Consultancy can assist throughout the year or at least 4 months before the submission due date to conduct a Skills Audit, identity skills gaps, and prepare the necessary documents needed to submit your WSP. e.g. NPOs within the HWSETA SETA Sector can qualify for Grants if you are a registered, levy-exempt employee with this SETA.
Annually, Creatividad submits several WSPs and Expressions of Interest on behalf of NPOs, unlocking hundreds of thousands of rands worth of skills development grants benefiting the sector. Please contact Creatividad if you want to register with your sector's SETA as an employer company – levy paying or levy-exempt – or need any Skills Development services.
Project Management
Creatividad Consulting has project management experience within the Private sector, Local Government, NPO, FBO, and NGO sectors as well as the training sector – both Higher Education and Further. We have worked within FBO, HET, FET, NGO, NPO, Civil Society, Local Government as well as in the Private Sector.
Our project management experience as Consultancy is specifically evident within the NPO and training sectors as well as the full processes of the accreditation of training providers.
Accreditation Assistance
The concept of our work and ethos is to bring in experts where we need them. Creatividad successfully partnered with Subject Matter Experts in the accreditation of companies with our internal as well as associated expertise.
Quality Management System
Setting up a qualifying Quality Management System with all necessary Policies and Procedures adhering to all SETA specific requirements might seem like a challenge. Especially if you are new to the accredited and SETA training sector.
Creatividad Consulting will assist you through this process of either assessing your current company policies and procedures, to assess if it will comply for submission and / or to identify any gaps that need to be addressed.
Membership Platform in Planning
Creatividad is working towards launching a Membership Platform in 2020 to provide a Skills Development community of different role-players and subject matter experts coming together to consider moving skills development forward.
This Membership Platform will provide different membership options with exciting content and engagement with like-minded professionals. It will also offer discounted accredited training to it's members on the higher-level membership group as well as Q&A sessions.